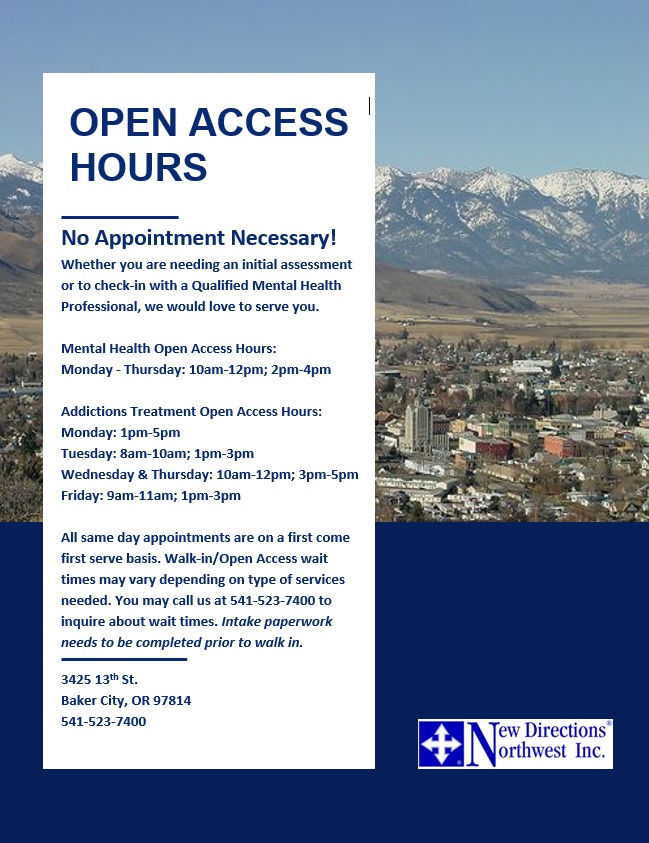 No Appointment Necessary!
Whether you are needing an initial assessment or to check-in with a Qualified Mental Health Professional, we would love to serve you.
Mental Health Open Access Hours:
Monday - Thursday: 10am-12pm; 2pm-4pm
Addictions Treatment Open Access Hours:
Monday: 1pm-5pm
Tuesday: 8am-10am; 1pm-3pm
Wednesday & Thursday: 10am-12pm; 3pm-5pm
Friday: 9am-11am; 1pm-3pm
All same day appointments are on a first come first serve basis. Walk-in/Open Access wait times may vary depending on type of services needed. You may call us at 541-523-7400 to inquire about wait times. Intake paperwork needs to be completed prior to walk in.
3425 13th St.
Baker City, OR 97814
541-523-7400
Let's Make Life A Little Easier...NO APPOINTMENT NECESSARY!
New Directions is now offering walk-in care. Now you can access quality Behavioral Health Services without an appointment!
The walk-in care offers a wide range of services including: intake, assessment, individual counseling, family counseling and case management services.
By nature, walk-in clinic wait times may vary depending on the number of individuals at the center and the type of services they are needing at the time. You may call 541-523-7400 before you come to inquire about the wait time.
As with walk-in care, we request payment at the time of your service if your insurance has a co-pay. We accept most insurance, including EOCCO/OHP, Medicare and other 3rd Party. Insurance plans vary by location and type of service needed. Please contact your insurance carrier to learn if the service you need is covered under your plan. If you have questions about insurance or payment, please contact our billing department by calling 541-523-7400 ahead of time. We are always happy to help!