Baker House Residential Program - Men
Baker House Men's Facility is a residential substance abuse program in Baker City Oregon. The typical length of stay in our program is 90 days, but varies based on clients' needs and progress.
Visitation with friends and family is available Sundays from 9:30 AM to 11:30 AM and 1:00 PM to 4:00 PM.
While we encourage our clients to explore nicotine cessation while enrolled in treatment we do allow cigarette use during specified breaks. Chewing tobacco is not allowed.
Rooms are dorm style, two beds per room.
"I finally realized in my head, there's just no way
I can do this on my own."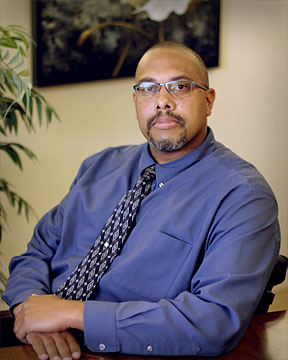 Anthony Washington
MA, CADC III, MAC
Treatment at Baker House is very individualized and client centered. This program works hard with each individual to find the inner strength and motivation to make changes for a better life with goals, hopes, and dreams. Staff is caring and dedicated to the process of helping individuals change their behaviors and learn the skills to be successful when they return to their families and communities.
Our staff is here to create a safe and supportive environment for men to heal from addiction and build a solid foundation for long term recovery. Our program offers four evidenced-based groups per day, five days a week, facilitated by credentialed addiction counselors.
We encourage healthy leisure activities and provide outings that include hiking, fishing, camping, shopping, walking, cooking, volleyball, gym time and local community activities. Church services are available on Sundays. Clients can choose to take part in volunteering in the community including community service time if needed.Clients have the option to attend Narcotics Anonymous (NA) and Celebrate Recovery meetings in the community.
A typical day in the Baker House*
7-8 PM - Peer-led Support Groups, Chores
*At Baker House we have two wings, each with its own group of residents.  To accommodate each wing, separate times for breakfast, lunch and dinner are scheduled, one time for each wing; wings alternate schedules each day (see below).  ** Lights out at 11 PM on weekend. Chores are assigned individually.
Breakfast: 6:30 AM
Lunch: 11:30 AM
Dinner: 5:30 AM
Breakfast: 7:00 AM
Lunch: 12:00 PM
Dinner: 6:00 PM
Daily classes use an evidence-based group format, rotating through the following material:
Domestic Abuse Intervention
Mental health services are also provided on site with ability to offer psychiatric assessment and medication management, individual and family therapy as needed.
"To learn vital things…gives me a better chance at surviving. Definitely."
"Life before treatment, for me, was overdose after overdose…"
"I've learned how to set healthy boundaries. I needed that really bad."
"After classes we have recreation…we have some massive, intense, fun-hearted games of volleyball."
"Every thing here is on a plus—it's a 'ten plus'—I can't say enough about it!"
"In 2011 I lost my son…and I believe that's a product of my environment."
"Here, everybody's going through the same thing."
"I came in here scared…angry…I didn't want to be here…"
"If you don't let it out…it's never going to go away and it's never going to get better."
"If you're thinking about getting treatment or getting clean or not…it's worth it, and you're worth it."
"I've learned how to think of the consequences first."
"It's crazy living with 22 guys; you're forced to learn how to communicate with each other helpfully."
"Learning that I have the right to say 'No' to anything…mainly drugs…is a big tool to have."
"Give it a try, even if you're worried or scared.
You'll have no regrets."
"I love the Anger group with Mark. His energy is just…you're there! He engages everyone!"