Baker House Residential Program - Men
Baker House Men's Facility is a residential substance abuse program in Baker City Oregon. The typical length of stay in our program is 90 days, but varies based on clients' needs and progress.
Visitation with friends and family is available Sundays from 9:30 AM to 11:30 AM and 1:00 PM to 4:00 PM.
While we encourage our clients to explore nicotine cessation while enrolled in treatment we do allow cigarette use during specified breaks. Chewing tobacco is not allowed.
Rooms are dorm style, two beds per room.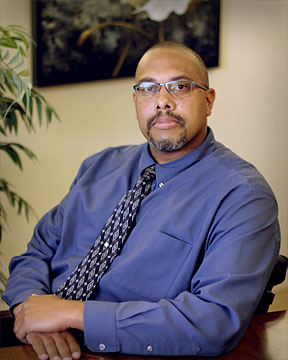 Anthony Washington
MA, CADC III, MAC
Program Director
Our Philosophy
Treatment at Baker House is very individualized and client centered. This program works hard with each individual to find the inner strength and motivation to make changes for a better life with goals, hopes, and dreams. Staff is caring and dedicated to the process of helping individuals change their behaviors and learn the skills to be successful when they return to their families and communities.
Our staff is here to create a safe and supportive environment for men to heal from addiction and build a solid foundation for long term recovery. Our program offers four evidenced-based groups per day, five days a week, facilitated by credentialed addiction counselors.
Activities
We encourage healthy leisure activities and provide outings that include hiking, fishing, camping, shopping, walking, cooking, volleyball, gym time and local community activities. Church services are available on Sundays. Clients can choose to take part in volunteering in the community including community service time if needed.Clients have the option to attend Narcotics Anonymous (NA) and Celebrate Recovery meetings in the community.
Accommodations
2 Withdrawal Management Beds

22 Residential Beds

2 Living Rooms

Commercial Kitchen

Dining Room Laundry Area

Group Room

Family Room

Shared Bathrooms

Recreation Area

Outdoor Volleyball

Outdoor Smoking Area
A typical day in the Baker House
6 AM - Wake Up

7 AM - Breakfast

8 AM - Classes

12 PM - Lunch

1 to 2 PM - Classes
2 to 4 PM - Recreation

4 to 5 PM - Classes

6 PM - Dinner

7 to 8 PM - Peer-led Support Groups, Chores

10 PM - Bed (11PM on Weekends)
At Baker House we have two wings, each with its own group of residents. To accommodate each wing, separate times for breakfast, lunch and dinner are scheduled, one time for each wing; wings alternate schedules each day (see below). Chores are assigned individually.
Schedule A
Breakfast: 6:30 AM
Lunch: 11:30 AM
Dinner: 5:30 AM
Schedule B
Breakfast: 7:00 AM
Lunch: 12:00 PM
Dinner: 6:00 PM
Classes and Development
Daily classes use an evidence-based group format, rotating through the following material:
Seeking Safety
Relapse Prevention
Criminal Thinking
Helping Men Recover
Parenting
Life Skills
Domestic Abuse
Intervention
Health
Boundaries
Addictions Education
TCU Mind Mapping
Anger Awareness
Stages of Change
Accountability
12-Step Mapping
Coping Skills (DBT)
Mental health services are also provided on site with ability to offer psychiatric assessment and medication management, individual and family therapy as needed.